Meet Your Teacher Celia Roberts
I have loved to sew for as long as I can remember. I grew up on a dairy farm in Iowa, the eighth of ten siblings. The first garments I created with needle and thread were clothes for dolls.
Sewing came easy for me. I was always standing next to my grandmother and mother as they used the sewing machine, begging for a turn. My mom didn't have much time to sew, but when she did, she picked 12 yards of whatever fabric was on sale and made my sisters and I matching outfits. Being dressed like my little sisters was annoying! So it was a big deal when I got to pick out four yards of pink and white houndstooth double-knit fabric and a new dress pattern just for me. I remember my mom asked me not to cut the fabric until she returned home from a trip into town. I never crossed the line with my mom, but that day my excitement ran ahead of my fear of potential consequences.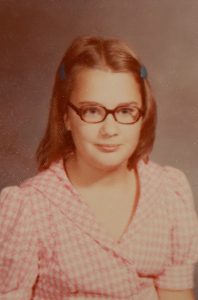 By the time Mom got home three hours later, the pink and white polyester was under the presser foot, well on its way to becoming my unique jacket and skirt outfit. The sense of accomplishment I felt when I put on my bespoke pink and white suit for the first time stands out among my adolescent memories.
That's why I started Celia's Craft Room. The transformation I see in my students between their first sewing lesson and the completion of a project is hugely satisfying for me. To see them evolve from timidly approaching the machine to proud competence (even mastery) is why I love what I do. It's what I  observed during my career as an elementary teacher – –  the aha moments when my students knew they could complete the tasks without my help.
Students in Celia's Craft Room range in age from 5 to 17. Projects that emerge from our work together include items as simple as a pillowcase to more complicated projects like purses and quilts.
I also design and sell patterns and handmade items at Celia's Craft Room or you can visit my Etsy Shop at http://etsy/shop/CeliasCraftRoom. But teaching is where my heart is. I have appreciated every student and every project she or he has completed. I hope you will consider enrolling your child in a creative adventure with me soon!