4-H motto: "To make the best better."
4-H Pledge: "I pledge … My Head to clearer thinking, My Heart to greater loyalty, My Hands to larger service and My Health to better living for my club, my community, my country, and my world."
It's time for the fair! County fairs bring back good memories for me, but what I remember most is 4-H. As a certified 4-H leader, this fall I'm encouraging my students to join our City Stitchers 4-H Club at Celia's Craft Room.
As a kid, I loved being a part of a 4-H club. It was all about fun, new friends, and what I liked to do! I joined 4-H at the beginning of fourth grade, just as my brothers and sisters had before me. My dad raised registered Holsteins and he needed his kids to show his calves and cows to advertise the family business.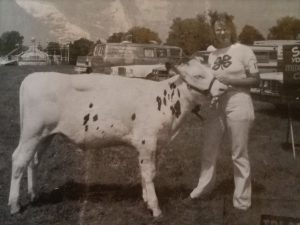 I was a shy kid and I remember being scared, but my high school sisters and mom tried to convince me it was going to be fun. Besides, they said I was going to the meeting that night whether I wanted to or not! I did not want to show calves and I did not want to be around people I didn't know. But I finally decided it would be okay, because I knew I would get to sew, craft, and cook. While I didn't want to show calves, dragging a calf around on a halter wasn't going to be a big deal. After all, I started helping my older siblings train show calves since I was five.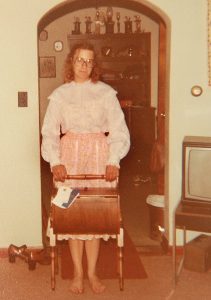 While 4-H is mostly about the fun and friendships, you must keep a record book and attend six meetings. The record book is a simple binder with a pre-printed goal and evaluation sheets for journaling your project's story. You should complete your project goals by the fair. A couple of days before the fair starts, you present your finished projects along with the journal during an interview with a project judge. I remember being very nervous about the interview, but talking to the judge is like talking to Grandma! She was excited about all the work I did and gave helpful tips to improve my skills. 4-H projects with awarded ribbons are then put on public display during the fair.
4-H Facts
"4-H is the nation's largest youth development organization. It reaches more than seven million youth. The program helps youth gain knowledge, develop life skills and form attitudes to become productive members of society. Research-based programs give youth the hands-on, real-world experience they need to be leaders." https://www.uidaho.edu/extension/county/ada/4-h
"4-H helps youth gain knowledge, develop life skills and form attitudes to become productive members of society. 4-H builds confidence, independence, resilience, and compassion through project-based activities." https://4-h.org/parents/benefits/
4-H is a challenge I am presenting to my students. This is an opportunity for you to encourage and help your daughter or son to continue to develop a hands-on life skill and make friends in a productive activity-based environment.
To get started, click the 4-H clover in the sidebar to be directed to the official registration page for Ada County. Then click the "Youth – 4-H Interest" tab. When asked, "How did you hear about 4-H?" tell them you want to be a part of the City Stitchers 4-H club with Celia Roberts. You can sign up for any project under Family and Consumer Sciences: Clothing and Textile categories. The 4-H club year starts in October and ends in August. The registration fee is $15 plus the costs of your project handbook. Samples of project books found on page 2 https://shop4-h.org/.
See you at the fair!