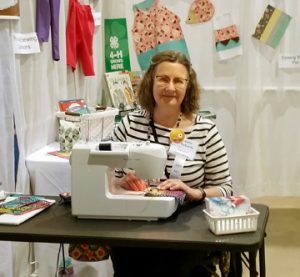 Celia's Craft Room at the Quilt Show! Thanks to everyone who came out to say hello at the Boise Basin Quilt Guild 2018 Quilt Show! The quilts were amazing, and if you missed the show you can view the quilts on the Boise Basin Quilters website.
It was great visiting with so many sewing and quilting enthusiasts. I didn't realize how great the need in the Treasure Valley was for teachers willing to teach sewing to kids and teens. I'll do my best to provide you with those hands-on experiences in Celia's Craft Room sewing studio.
City Stitchers 4-H Club
The 4-H year has officially started! Have you registered your students? Register https://www.uidaho.edu/extension/county/ada/4-h.  The extension office will be in contact with you. The Ada County 4-H program coordinator will then contact me with the list of families and students.
What are the costs for 4-H, and how do I order project books?
Current registration fee is $15.
Project books range from $5 – $15. If it's your first year in 4-H, choose one or two projects.
Order curriculum books at Shop4-H.org. Currently, there is an October 25% off books special until October 31. I have Under Construction and STEAM books if you would like to review the curriculum before you purchase.
Additional costs for 4-H would be related to the projects.
City Stitchers 4-H Club will hold our first club meeting October 27 in the sewing studio. I'll email families who are enrolled with a meeting time.
AND THE WINNER OF THE EMOJI SEWING PARTY IS …
Over the weekend everyone had the opportunity to subscribe to Celia's Craft Room newsletter. As promised here is the winner of the Emoji Theme Sewing Party for up to five kids!
Congratulations to Jackie!
I'll be contacting you soon to schedule your kid-friendly Emoji Theme Sewing Party!