I'm SNOW excited to share my recent craft room creations with you. With Christmas a few days away, I think it's a great time!
Snowman Blue Jean Pockets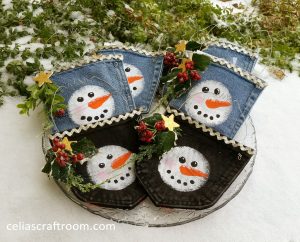 These pockets were gifted to me with a stash of fabric. Because snowmen are one of my favorite things to craft, I searched Pinterest and found instructions for snowman pocket ornaments. I also found a pattern and instructions online on how to line the backside of the pockets with snow fabric for a more finished look. Sorry, I forgot to take a photo of the back of the ornaments.
Instructions:
Cut the pockets out of the jeans with the back fabric attached and leaving about one inch of extra material around the pocket. Find your favorite snow print fabric and cut it larger than the pocket. Lay the pocket and the snow fabric right sides together. Stitch the snow fabric as close as you can to the original pocket, leaving a small opening to turn the pocket right side out at the top. Trim seams to 1/4 inch, clip corners and turn right side out. Handstitch the opening closed. I made stencils to paint the snowman head, eyes, mouth, and nose. For the top of the pocket, I attached Christmas trim, wooden stars with gold foil, holly, and evergreen pieces cut from an old Christmas wreath with hot glue. For a rustic "western" feel, I shaped wire into a hanger. Once I tucked treats and hand lotion in the pockets, they made lovely little gifts. If you're not into sewing, you can cut the pockets off the jeans and trim the edges close to the pocket finished edge (no need to add a lining) and decorate as you wish.
Snowman Donuts
Every kid loves donuts. I wanted to make a special treat for my kindergarten Awana class' birthday party for Jesus last Monday, but didn't want anything too time-consuming or messy (because I need to stay friends with the janitor). The prepackaged donuts were the hardest part of the project! They are not always available, so when I saw them in stores in early November, I grabbed a box. I made the hats with Stampin' Up! punches, the scarves with ribbon, and cut the noses from orange card stock.
Snowman Pretzels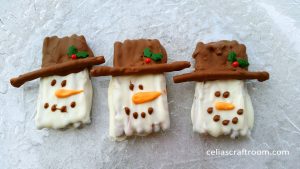 When you search Pinterest for snowman treats, there are a million ideas. I make candy-coated pretzels every year for Christmas for my friends. I also like to send fun treats to my oldest son and his friends at college.  So this year I sent him treats like those pictured above, along with a gift card for his favorite restaurant.
Instructions:
Melt some white chocolate bark. Dip six mini stick pretzels in the bark and place them on parchment paper so they are touching each other. After they are completely cooled, melt some milk chocolate bark and dip the top third of the sticks into the bark to make the hats. Let the chocolate cool until set. Use a single stick dipped in bark for the brim of the hat. Spoon warm melted chocolate into a small ziplock bag and snip a very small hole in the corner of the bag to pipe the eyes and mouth. I used confection sugar frosting for the noses. If you can find orange melts, it would be an easier option. The holly and berry candies are made by Wilton; I found them at a local party store. If you have time, and are good with cake decorating tools, you could make your own holly and berries for the top hats.
Fabric Baking Mix Gift Bags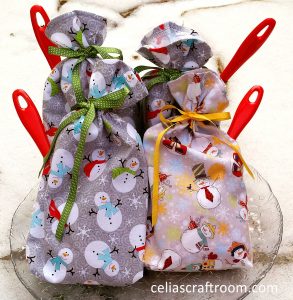 The pattern that I used for the gifts above is one I won at a local quilt shop two years ago. On a recent trip to visit family in Iowa, I was delighted to see several such bags on display at the Quiltmakers Shoppe in Manchester! I couldn't resist the adorable snowman fabric. The pattern by Vanilla House Designs can be purchased at most local quilt shops or you can find it here at Vanilla House Designs website. This easy beginning sewing pattern can be purchased online as a digital download. The pattern features a cute pocket in the front. Tip: I used a contrasting fabric for the pocket, but it hid all my cute snowmen. I decided to put the pocket on the back of the bag. To save time and money, I purchased a brownie mix and spatula at our local Dollar Store. This easy beginning sewing pattern can be purchased online as a digital download.
Although Christmas is just a few days away, if you are a happy crafter like me, you still have time to create. What are you making for Christmas? Share in the comments below.
I wish you a Merry Christmas and a Crafty New Year!