"Miss Celia, this is sewing school — we don't do book reports!" Okay, I won't make you do a report, but you'll find sometimes that books are better than the Internet. Below are my three favorite reference books that I use when teaching sewing classes for kids. Unlike your computer, you can keep your books next to your sewing machine, and refer to them easily as you sew. Plus, all these books have patterns and practice sheets included.
My Five-Star Favorite Sewing Books for Kids
#1 –The Best of Sewing Machine Fun for Kids (Second Edition), by Lynda Milligan & Nancy Smith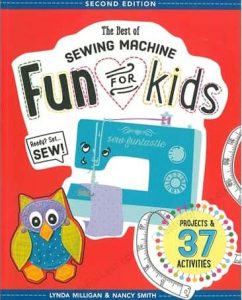 This book, while not a requirement in my beginning sewing class, is a great workbook for kids to learn the basics.  Readers are introduced to sewing vocabulary with fun puzzles, taught the ins and outs of a sewing machine, and how to iron and use a sewing machine safely. This book is full of fun projects and practice sheets to increase sewing accuracy. Many of the first sewing projects use paper, so make sure you have one sewing needle designated for paper. I initially questioned paper sewing, but after following this program for a couple years, I found it increased confidence and skills. Students who practiced with paper first had no problems when they transitioned to fabric. It's my go-to book for after-school sewing clubs.  The projects within are simple and easy to complete in about an hour.
#2 – The Amazing Stitching Handbook for Kids, by Kristi Nicholas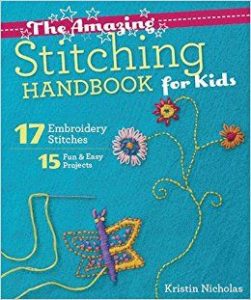 Once a kid has a sewing machine to use, they don't usually want to hand stitch. I don't either, but there's no way around it, we all need to learn hand stitching. I found this book when I was looking for needle book assignments for my beginning sewing students. This book really is amazing! I have learned so much about embroidery from it. And the projects are "fun and easy," as claimed. There are four main chapters in the book: teaching students how to use plastic canvas, free-form embroidery stitches, looped stitches, and a few fancy stitches. There are large illustrations explaining each stitch and full-size patterns are printed in the back of the book. Every kid and adult should have this book in their sewing room.
#3 – Girls Guide to DIY Fashion, by Rachel Low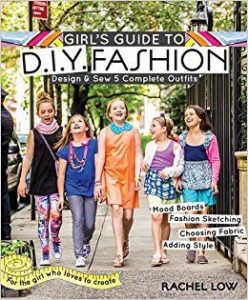 This was my bargain find. It was on sale for 75 percent off at a local fabric store. What a deal! With the ever-so-popular Project Runway show and so many pattterns made by teens on the market now, this book is a great starting point for young sewists who want freedom to create. It has new-to-sewing information, but not as in-depth as Sewing Machine Fun (metioned above). The author encourages her young readers to start a design journal or "mood board" and start a Pinterest board (with parents' permission and guidance). Each chapter features a sewing theme as a guide for a fun group activity. Full-size patterns are included in the back of the book, but you will need tissue paper to modify and create your own patterns to complete some of the projects. You could also purchase a similar commercially-made pattern and follow the book's simple sewing instructions. The only thing I'd change about ths book is to add lessons on proper technique for clothing construction. However, young sewing students want to have fun and this book is all about having fun with your friends while sewing!
I hope you find this list helpful as your sewing skills grow. What five-star books or patterns have you used? Please share them with us in the comment section below.
Creatively yours,