Making Fish!
Making Fish! A Collage Quilt Pattern by Laura Heine
When the catch of the day is on your craft table instead of the frying pan…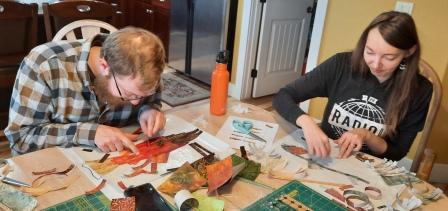 Celia's Craft Room Pattern Review
I have done a few art quilts using McKenna Ryan patterns and my own designs. The basic appliqué technique for both uses a Teflon pressing sheet and Lite Steam-A-Seam 2 Double Stick Fusible Web. When I saw the Making Fish quilt at our local quilt shop I knew this was something my fishing kids would enjoy on their table.
Pattern: Making Fish! by Laura Heine.
Pattern Sizing: The fish drawings included in the pattern were bigger than a normal size placemat. I contacted the pattern company to get permission to make a copy of the fish to reduce the size, but they respectfully told me I could not. My husband is an artist and redrew fish shapes to fit an average size placemat and cut out the final shapes after the pieces were fused together.
Were the instructions easy to follow? Yes and no. I had a little background knowledge, but I did an online search for videos for Laura Heine quilts. After watching her technique, the instructions made more sense. The pages in the pattern are also not numbers. I suggest you open your pattern carefully and number the pages if you decide to proceed with her specific technique.
What did you particularly like or dislike about the pattern? I liked the idea of using strips of fabric to create the watercolor look of each fish. I didn't care for the technique of fusing pieces onto Pattern Easy (lightweight non-woven interfacing) used for tracing patterns. Pattern Easy not only adds weight to a project, but it's an unnecessary step for these placemats. I decided to use a simpler technique I learned while creating art quilts by McKenna Ryan.
What fabric and batting did you use? I used batik fabric because it was a raw edge appliqué technique. There is less fraying while piecing and after washings when using this type of cotton fabric. I used a thin weight batting by Dream Cotton.
Did you make any pattern alterations or design changes? I used my own fish designs based on real trout photos. The pattern suggests cutting up 60 pieces of fabric 3 x 11. Don't do it! Fabrics were sorted into four specific fish species color piles. I cut one 3 x 5 pieces of each color or small scraps and cut more if needed. We still ended up with leftover strips. After the adhesive was attached to the fabric, per instructions, pieces were cut as needed. I did not use Pattern Easy as suggested; we fused the fish directly on the Teflon sheet, cut fish outline details, and then fused it to the background fabric.
Would you sew it again? Would you recommend it to others? Yes, I would recommend giving collage quilting a try. It was relaxing. I liked laying the colors on a basic outline and not worrying about keeping them inside the line. I also liked you could leave it as is or make more detailed cuts to the final shape depending on your style of art. It was helpful to use take a photo and look at it in color and black and white to help make design changes. Using strips made it feel like you were using a brush to watercolor and simplified the process of blending the colors together. It's a good lesson on color, tones, tints, and shades. It will make a great lesson for my youth quilting classes.
You can click the photo to make the photo larger.