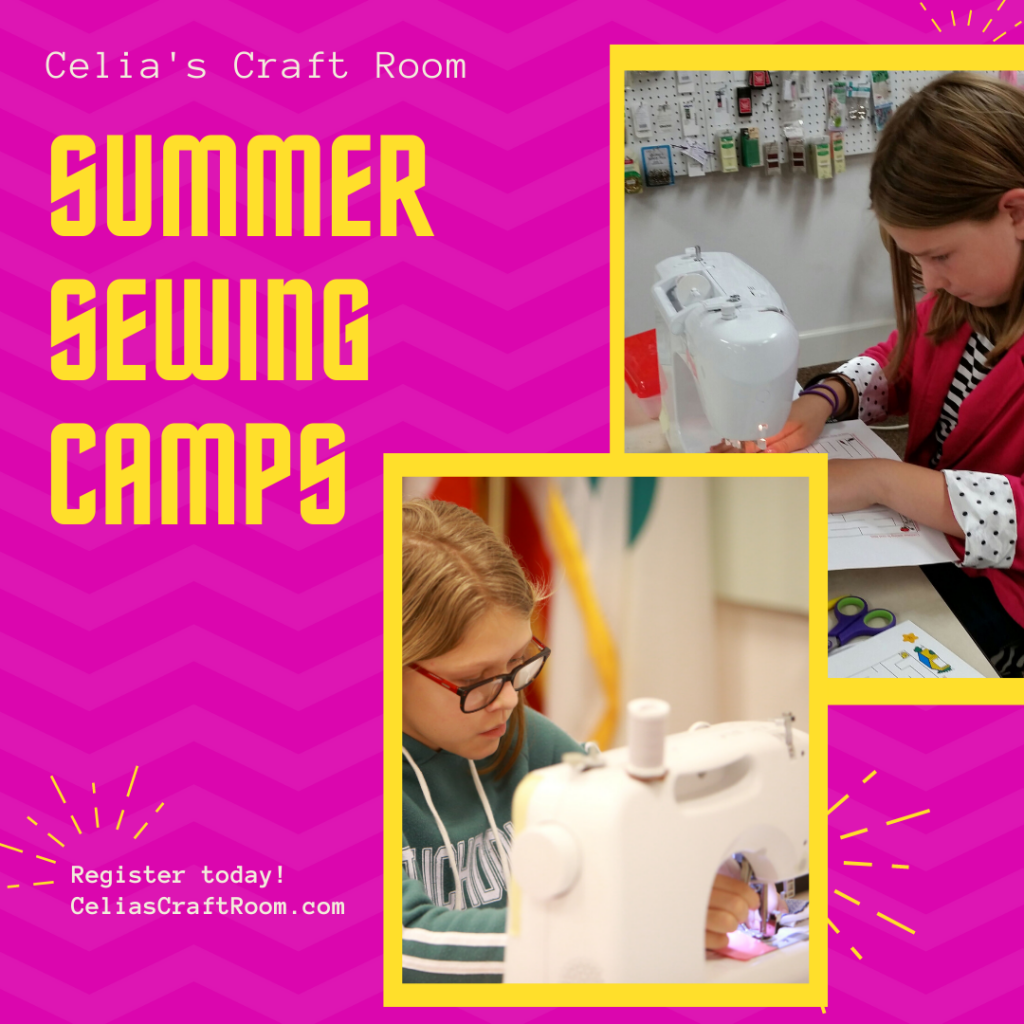 While swimming pools have been closed for the summer, Celia's Sewing Studio is now open! Summer sewing camps are available. 
Summer Sewing Camps
Choose from a variety of regularly scheduled classes and six optional two hour Summer Sewing Camp Classes: Camping Pillow, Hand Stitching Baby Sea Turtles, Candy Wrapper or Snack Bag zipper pouch, Thread Catcher (every student wants one after they use mine), Phone Pillow, and Sew Fashion. Sew fashion camp is also an optional service project activity. Young sewists in the sew fashion camp will design a pillowcase dress or t-shirt shorts for themself, and one for a child in need. You can read about the service project here: http://www.littledressesforafrica.org.
I am often overzealous about summer sewing camp project timelines! Class times are created with the idea that learning to sew should be enjoyable and not rushed. Students might not finish the projects in the allotted time and that's okay. If they don't finish, they can schedule a time to come back to finish at no additional charge.
We can all agree this has been a crazy time, but it's time to move forward. The following rules will apply and as the virus situation changes we will be flexible with how to operate. Currently, I do not offer online classes.
Celia's Craft Room: Sewing Studio for Kids and Teens COVID-19 Update
The Sewing Studio will be open starting June 8th.
To keep the environment clean and as safe as possible:
ALL classes and camps will be limited to one student or sibling group of no more than three.
Parents will not be allowed in the studio during Idaho's reopening phases; unless you are registered to take the class with your child. There is a Starbucks, public library, and several neighborhood parks nearby if you need a hangout spot while your child takes lessons.
If your child or your family is sick, or if you have been exposed to the virus, please stay home. We can schedule a make-up date.
Students will be required to use hand sanitizer upon arrival and departure.
All surfaces will continue to be disinfected before and after classes.
Due to the nature of teaching sewing lessons, we will not always be six feet apart. If this is an issue then I ask you to wait to sign your student up when Idaho has fully opened.
All classroom safety rules still apply:
Closed toes shoes must be worn in the studio. We are working with pins, scissors, and knife-sharp rotary cutters … let's be safe!
Students will use my classroom machines as they have many safety features built in to give me peace of mind and student success.
I encourage students to bring a water bottle and snack as needed. Food is not allowed in the studio, but they are welcome to take a short break in the kitchen.
Thank you for your cooperation during this time.
Sincerely,